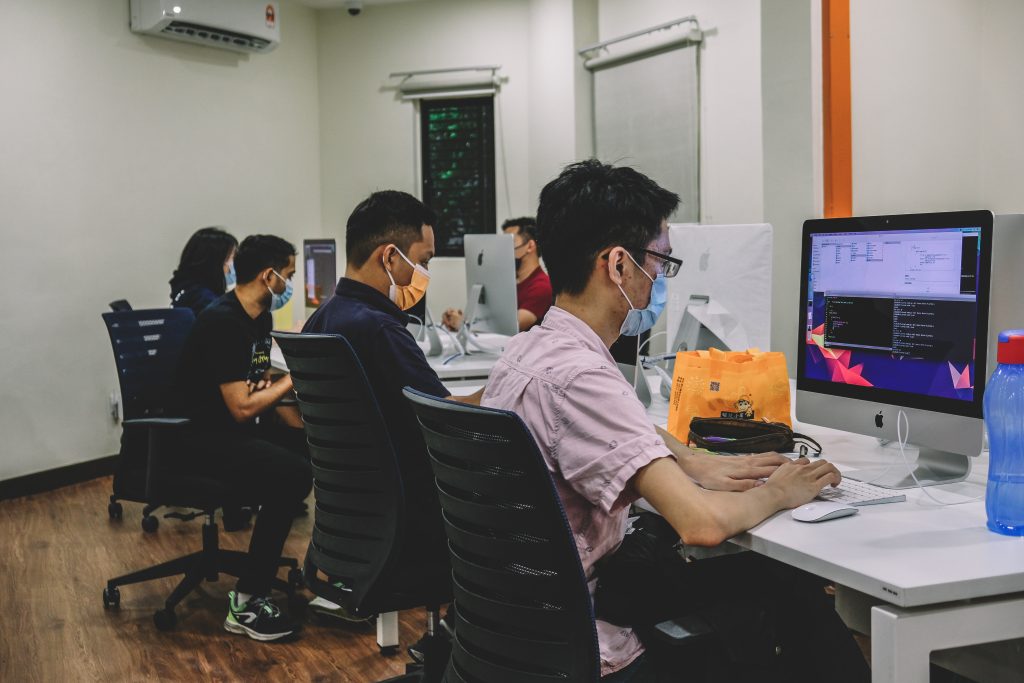 How can we help you?
Here are some frequently asked questions and answers under a few broad categories. If you have more questions that have not been answered, feel free to contact us via email: community@42kl.edu.my
General
Masks are mandatory everywhere, at all times. Workstations must be disinfected between each use. Sanitiser solution is available throughout the campus. Available workstations are 1-metre apart from each other to ensure appropriate physical distancing.
No. If you are having a fever, flu, cough or not feeling well in general, we advice you to stay at home. You will not be allowed to be in campus.
Special arrangements can be made for Cadets in our core programme to work remotely in such cases.
No, 42KL is NOT a Bootcamp. It is a full-time study that requires about 40 hours a week to complete and is a 1-3 years program (1 year for the Core Programme and 2 years for Specialisation).
No. 42KL is a physical coding/programming school and we believe that the best way of learning is in our campus. Considering the current pandemic, we will be ensuring a safe environment with all physical distancing measures in effect.
Yes, a lot! 42KL will invite guest speakers and organise hackathons on a regular basis so you
can get in touch with many like-minded people and industry professionals from a wide range of a lot of backgrounds and disciplines. We want our speakers not just to have a presentation but to also create a bond with students of 42KL. In terms of social activities, there are many bonding sessions facilitated by 42KL, but students are also highly encouraged to organise their own activities and build our community.
Though we would not recommend doing it, you can stop at any time. Keep in mind that 42KL's
course is full-time and requires commitment. But sometimes life gets in the way and instead of
leaving the course, get in touch with the educational staff to review your situation. If pausing your
course is right for you, it is possible. You will then be welcome to resume from where you were
when you come back.
If you want to join 42KL you need to be able to stay in the Malaysia legally for at least 365 consecutive days. If you cannot meet this criterion, we will have to deny your application. Unfortunately, we cannot provide you with a student visa.
It is our nation building initiative to give individuals equal opportunity to maximise their talents. We believe that everyone deserves a fair chance to follow their dreams, regardless of background and resources. It is for this reason that 42KL provides free education. You will not be charged during or after your studies at 42KL.
So where does the money come from? 42KL is made possible, thanks to the Jeffrey Cheah Foundation, Sunway Education Group, Sunway iLabs and MDEC. Together with our Anchor Partners, we are able to provide this opportunity to all Malaysians above 18 years old.
42KL is completely tuition-fee free. However, during your studies here you will have to make your own living i.e. accommodation, food, other expenses. Don't worry! With a simple Google search, you may find plenty of accommodation options around the Sunway area as well as a variety of F&B outlets suitable for all.
Yes! Following the success of the first school 42 in Paris, which was elected 'Best coding school of 2017', sister schools have been set up in Brussels (Le 19), Tokyo (42 Tokyo), Amsterdam (Codam), Adelaide (42 Adelaide), Helsinki (Hive), Madrid (42), Sao Paolo (42) and many more. There are currently 33 campuses across 21 countries.
Of course! Like 42KL, our sister schools are tuition-free and use the same curriculum. However, students need to begin the curriculum on the same campus where they did their Piscine (selection process). For example, if you undertake the Piscine at 42KL, you can only continue the Core Programme at 42KL. If you have undertaken a Piscine in another 42 school and wish to join 42KL, you are required to take the online test and Piscine at 42KL again to be able to join the 42KL Core Programme. Nonetheless, it is possible to transfer between campuses when students continue with their Specialisation after graduating from the Core Programme.
It is not impossible. However, we would advise against it as it can be quite difficult and overwhelming for you. In order to succeed in 42KL, you will have to spend a large part of your time at the school (during the Piscine more than sixty hours per week, and after that, an average of forty hours per week to progress in the Core Programme at a good pace). Some of our working students have taken a combination of annual/study leaves to undertake the Piscine, and some have joined the Piscine when they have more free time i.e. semester break. Ultimately, it is down to you to manage your time well and take charge of your own learning.
You do not need a laptop during the Piscine. The school is equipped with 150 iMacs which are more than enough to serve all students. During the studies, it is okay to use your own laptop, but it is not required and you'll need to submit your work on the school's iMacs.
Admission Process
The application starts with the online test at apply.42kl.edu.my. The test is available and can be done at any point in time. It takes 2 hours and 10 minutes and must be completed in one sitting, so do ensure that you allocate sufficient time for it. After passing the test, the next step is to attend an Introduction Session conducted online. Further details on these sessions will be made available through the apply.42kl.edu.my page and our social media channels. After the Introduction Session, it is then possible to sign up for the final step: The Piscine.
The dates for the Introduction Sessions will be made available through the apply.42kl.edu.my page and our social media channels. If there are no introduction dates available, then more will be announced soon. Do follow us on social media and look out for our emails (remember to also check your spam/junk folders, and save us as a favourite contact). Stay tuned!
The dates for the Piscines will be made available through the apply.42kl.edu.my page and our social media channels. If there are no Piscine dates available, then more will be announced soon. Do follow us on social media and look out for our emails (remember to also check your spam/junk folders, and save us as a favourite contact). Stay tuned!
After passing the Piscine, it is possible to join (kick-off) the curriculum/Core Programme on one of the starting dates in the same year; usually around April and September/October. The exact start date will be made available through the apply.42kl.edu.my page, your registered emails and our social media channels.
Our online application will stay open, always. After registering and taking the online test, your online test scores will be saved for one year and you can choose which Introduction Session and Piscine dates you want to sign up for within one year.
Instead of having a certain background, education or degree, we expect applicants to be visionaries who are motivated and committed to the study program. Having said that, we request that applicants are at least 18 by the time they start in the selection Piscine.
You need logical thinking skills and a problem-solving attitude. You need to be able to adapt and overcome difficulties, be proactive, curious, creative, thorough, and be able to collaborate.
Not at all! From the first year batch that started at 42KL in 2021, 34% had no experience in coding and 46% only knew basic coding prior to applying to 42KL. There's no evidence those who have coding background do significantly better at the selection Piscine than those who didn't.
42KL offers a programme with a world class curriculum that challenges students with projects of increased complexity. Every problem is unique and requires you to think out of the box, with other talented and motivated peers. Everyone, coder or not, can find a rewarding path within 42KL.
The Curriculum
42KL is a school based on peer-to-peer learning, in which students learn and discover by themselves and with peers. The environment forces you to learn how to learn which to us is one of the most important skill to develop. There is, however, a pedagogical team that makes sure the learning environment works and that students are progressing.
Peer-to-peer learning is an education model where students learn from each other instead of learning from an appointed teacher. It emphasises critical thinking, teamwork and communication. Students also evaluate each other and learn from explaining to peers.
In project-based learning, students gain a deeper knowledge of a subject through active exploration of real-world challenges and problems. They learn by doing and thinking critically, rather than by following instructions and memorising.
Projects will be assessed by a student's peers using a grading sheet and general guidelines provided by the educational staff. Students must be able to explain their code to the evaluator in such a way that the evaluator understands, even if they have no prior knowledge going into the evaluation. A student's grade will be determined by how well their code works and how well they can explain it. If you can't explain it, you don't understand it well enough. – Albert Einstein.
You start building a base in the C programming language and fundamental programming concepts. As you progress towards your industry placement, you can explore introductory branches in UNIX, graphics and web programming. After that, the curriculum will include deeper projects in many fields of computer science: Object Oriented programming, Mobile programming, Functional programming, Web security, Reverse engineering, Malicious Code, Kernel programming, Network programming, Artificial intelligence, 3D programming, and many other areas of programming and IT. You will also be learning and utilising the git system throughout the programme even from Day 1 of the Piscine.
During their basic studies at 42KL students learn the fundamentals of coding. C language provides an effective base for this. Through learning the language in their basic studies students get an understanding of how to think like a coder. C as a language also demands the coder to be independent and to understand how the code works on a fundamental level. After learning the ins and outs of C, students will understand what lies beneath any coding concept and how they really work.
42KL shares the proven curriculum of Ecole 42 in Paris. There are more than a hundred projects laid out as a tree. When you complete a project, you move to the next one, until you can choose from different paths and discover multiple aspects of programming and IT. Each student's experience is unique, as they experiment with projects and choose to follow different specialisation paths in the extended curriculum.
In addition, at 42KL we work with our Anchor Partners to come up with localised challenges and projects for students to take up throughout the programme.
You progress in the curriculum by completing projects and getting points. With these points you level up and unlock more projects and specialization branches. You can also master different skills, complete quests and achievements. Students can compare their levels to know how far they are in the curriculum.
The original curriculum was created in 2013 by Ecole 42's team, which consists of veterans in the computer science educational field in France. It has evolved since then through the contribution of educational staff in Paris and other schools around the world, co-operation with companies and even students.
Every quarter of the year, the pedagogical committee consisting of educational staff from all 42 campuses get together to discuss and execute updates to the curriculum based on current industry trends.
The Piscine
The Selection Piscine, or just Piscine, is a four week long trial period. During the Piscine, you will discover the basics of coding from scratch. No prerequisites of any kind are needed: no previous degrees, no coding experience. This period will be very intensive and requires commitment, so don't expect laid-back weekends… There is no fixed amount (quota) of applicants to be selected from each Piscine. This means there is no competition between applicants and anyone can be selected – as long as they can swim.
The word "Piscine" is the French word for "swimming pool", meaning that everyone dives into the deep end of coding and learn how to swim together.
The Piscine is designed in a way that both the candidate and 42KL can validate if this educational model is the right fit. If a candidate is not accepted into 42KL after the Piscine, we advise them to try a different learning program. This is not the only way to learn to code!
Having said that, you are still allowed to try out the Piscine again one year after the first trial. You can make a maximum of two attempts in your lifetime.
That is totally okay! Applicants are free to leave the admissions process at any point. You can just walk out, with no strings attached. Although the educational staff would really appreciate learning the reasons why. Who knows, maybe talking it through with someone can change your mind!
Yes. The beginning of your Core Programme studies is a continuation of the Piscine, so it is much better for you not to interrupt the learning process. Nonetheless, if you know you might not be able to enroll in the school right after the Piscine, it would be fair to leave the spot from someone who is eager to start, and join a later kick-off date.
You can always discuss this with the 42KL staff members for other arrangements.
Job Prospects
At 42KL, you do not receive an accredited degree, as this educational model is new in Malaysia and does not correspond to any traditional definition. However, we do not believe this to be a problem in the technology sector, given that companies tend to only care about what you can do, who you are and how you work. Our anchor partners consisting of reputable corporate companies and startups are all waiting in line to hire graduates from 42KL.
During the programme, you build your own personal portfolio. Upon graduation, you'll receive a certificate as proof that you completed the program. In our partner school 42, 100% of graduates are well-employed. Many students already get offers from companies in the early stage of their studies. Lastly, we want to add that in tech, you never stop learning. It is constantly evolving, and so will you!
Would you like to? If so, this is definitely possible. But it is more likely that you will develop new skills and interests and find other digital-related positions. Companies and organisations in all industries are affected by technology and digital transformation. More often than not, these roles are multi-disciplinary and require you to collaborate in teams.
Many of the graduates from the 42 Network have also ventured into building their own companies by teaming up with other 42 graduates.
Completing the course gives you access to many positions and jobs in the digital world, from startups to worldwide leading companies – in existing roles or those yet to be invented. Try searching "digital world jobs" in your favourite search engine and see what's out there! With the skills you acquire at 42KL and peers whom you'll work with on a daily basis, you may even decide to build your own company. 30% of students in Ecole 42 have done just that.
At 42KL, we won't teach you how to solve a specific problem, or how to use a tool. The curriculum will teach you how to learn and to understand the tools you use. After 42KL, you will have the ability to solve hard problems, because you'll be used to thinking critically, seeking and sharing knowledge. We will not lock you in into a specific technology. Technology changes every year anyway. You will be able to develop and maintain relevant skills throughout your career.
It is key to your learning process that you do your own research and find suitable industry placements required to validate the program independently. 42KL has partnered with great companies who are committed to providing placement for our students. However, those are limited opportunities and students are still required to show initiative and go through the company's selection process.
We strongly recommend that students pursue career paths they are passionate about. We'll support this by offering a great education and regular opportunities to meet up with companies and organisations through various activities (hackathons, speakers, workshops, etc.)
Yes! Once a student in 42KL, our doors will always be open for you! Alumni can come back to continue their studies any time they want and we would love for them to remain part of the 42KL community and share their new-found knowledge from the real world with other students.